---
Vacuumed glass VacuumSAV
VacuumSAVTM has as a main characteristic which the right combination between thermal performance of a traditional insulating glass window with a unique sole glass thickness.

It is the right solution: historical heritage protection combined with modern comfort without forgetting environmental needs.

VacuumSAVTM presents a overall reduced thickness and very good acoustic insulating proprieties. This type of installation is the ideal solution for historical buildings in which window substitution is possible without omitting original aspect perservation.

This system can be installed on original window frames if in good shape.
Up to this day until Vacuum save appreared on the market the only possibilities which could have been taken into consideration were modern double glazing frames appearing the non adaptable solution for an antique building which had to maintain the right aesthetic prospectation.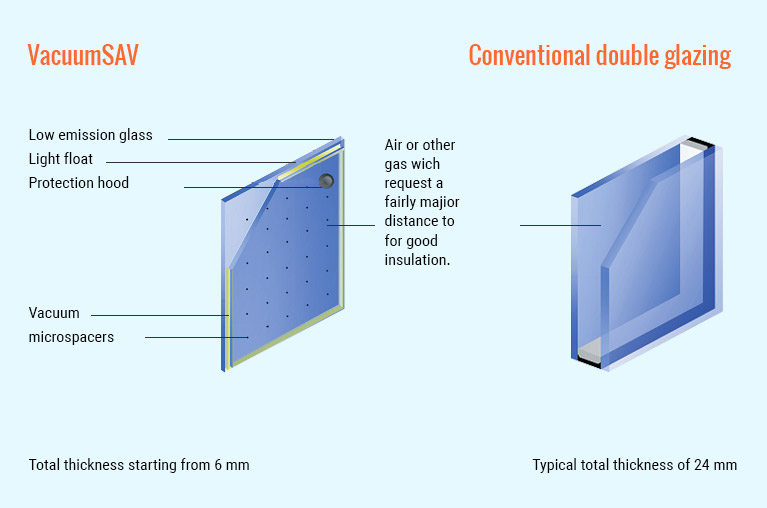 Advantages
Aesthetic improvement: the final window aspect is in accordance with how an historical building should be;
Major comfort: cold area reduction;
Noise reduction: An efficacious solution for acoustic insulation which a single glass window can offer;
Heating cost reduction: 4 times more efficient in thermal insulation in respect to a single glass window;
Competitive substitution costs: the old frame where once a single glass window was mounted can be reused and adapted to VacuumSAV glass windows;
Tested solution: this technique is used in Japan successfully for over 10 years now.
Protection hood
The creating process regarding the VacuumSAV glass is done by boring a hole in the inner part of the glass sheet which is then sealed. The seal is covered with a small permanent black plastic hood (12mm) situated 50 mm from the glass border which will be positioned within the building and which must not be removed when window is fixed. The hood can be placed on any angle of the glass panel.
Microspacers
The 0,5 mm diameter spacers which are positioned at 20 mm one from the other are necessary to maintain the right distance between the two glass sheets.
Type
Thickness

Light transmission

Solar factor

Value U (w/m2k)

Acoustic reduction

Monolithic

VacuumSAV

6,2
78
67
1,4
35

VacuumSAV25

Double Glazing

25,0
70
55
0,7
35