---
Stratified/bedded glass
Stratified/bedded glass used for security is obtained by assemblying two or more layers of glass together with one or more sheets of plastic material (PVC) obtaining in this way major impact resistance.

The tight net of plastic threads contained within the "soul" of the manufactured piece avoids the glass to break in a thousand pieces if it should be shattered. All pieces remain glued to the sheet avoiding occurring injuries or burglar intrusions.
The advantages regarding the bedded/stratified glass:
Glass capacity of maintaining intact its structure even if shattered;
Accident risk prevention due to flying pieces of glass;
Atmosphere protection against vandalistic or burglar attempts.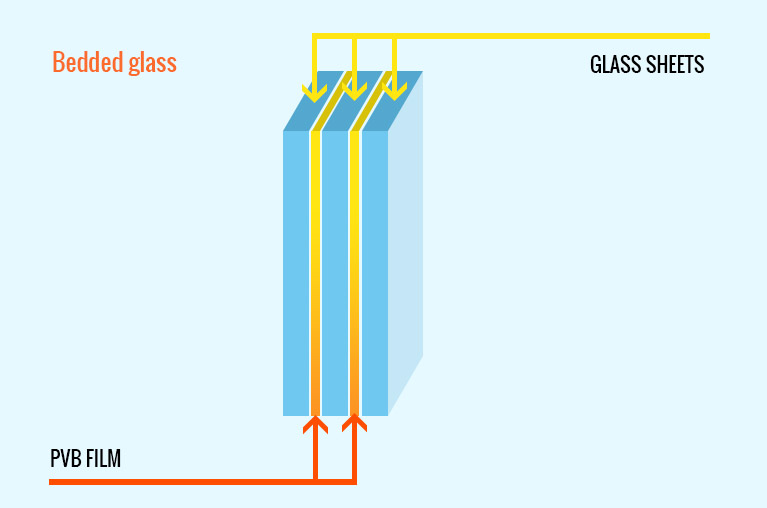 Some examples of classification of most common stratified glass:
Product
UNI EN 12600 / Simple safety

UNI EN 356 / Anti vandalism

UNI EN 356 / Anti burglar

UNI EN 1063 / Bullet proof

3+3 0,38
2B2
4+4

0,38

2B2

5+5

0,38

2B2

3+3 0,76
1B1
P2A
4+4

0,76

1B1

P2A

5+5

0,76

1B1

P2A

5+5 1,52

1B1

P2A

BR1
6+6 0,76

1B1

P2A

5+8+5 0,76
P6B

BR1

8+8 4,56

P5A

P6B

BR2

8+10+8 0,76

P6B

BR2

8+10+8 0,76-3,04

P7B

BR3
Classification EN
UNI EN 12600 / Simple safety

(pendulum test)

UNI EN 356 / Anti vandalism (steel sphere test)
UNI EN 356 / Anti burglar (ax test)
UNI EN 1063 / Bullet proof (ballistic test)