---
Insulating glass for thermal and acustic insulation
Insulating glass windows are made up of two or more glass sheets within which air is immobilized making possible scarse thermal conductivity.

The sheets are united to each other by means of a metallic or polymeric space frame and are separated by a layer of air or noble gases.

Within the frame dehydrated salts are inserted which are needed to eliminate any trace of vapour created within the cavity assuring maximum transparency and avoiding any type of condensation phenomenon.

The glass window perimeter is then sealed with a polysulphide barrier which avoids water vapour formation and then is fixed together with an ulterior silicon barrier.
Advanages regarding insulating glass windows
Elimination of cold areas with the room
Condensation reduction
Heat saving costs
Air conditioning saving costs
Co2 emission reduction
Radical external noise reduction.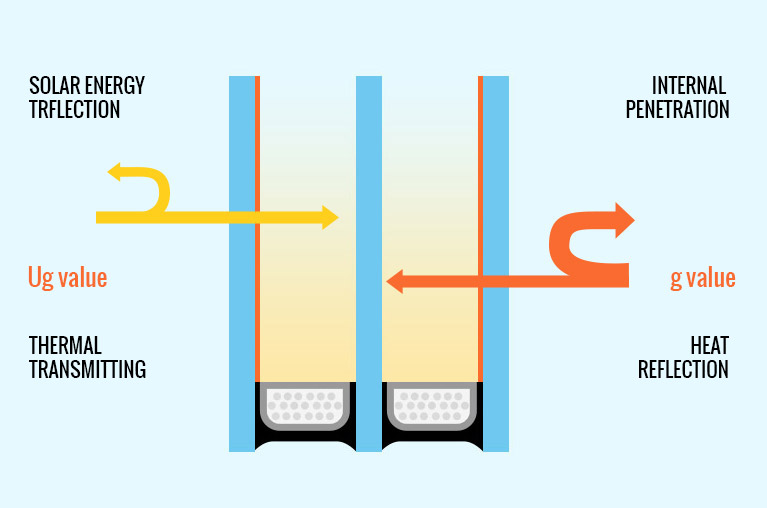 Glazing glass functioning
Ug Value: This indicates thermal transmitting. This means that the average heat flux which goes through the glass which separates two rooms having different temperatures.

g Value: This represents the relation between total energy transmitted within the room in which the glass window is found and the solar energy impact on that glass window.
| Glazing glass types | TL (%) | FS (%) | DB (Rw) | U (W/mq°K) | U c/Argon |
| --- | --- | --- | --- | --- | --- |
| 4/16/4 | 81 | 76 | 30 | 2,7 | 2,6 |
| 4/16/4 B.EMISSION | 80 | 61 | 30 | 1,4 | 1,1 |
| 4/16/4 B.EM.SELECTION | 71 | 43 | 30 | 1,4 | 1,1 |
| 4+4/16/4 B.EMISSION | 78 | 55 | 36 | 1,4 | 1,1 |
| 4+4/16/4 B.EM.SELECTION | 75 | 55 | 38 | 1,4 | 1,1 |
| 3+3 F.IS./16/3+3 | 78 | 68 | 39 | 2,7 | 2,6 |
| 3+3 F.IS./16/3+3 B.EMISSION | 77 | 56 | 39 | 1,4 | 1,1 |
| 5+5/16/4 B.EMISSION | 77 | 54 | 38 | 1,4 | 1,1 |
| 3+3/16/3+3 B.EMISSION | 77 | 56 | 35 | 1 | 1,1 |
| 3+3/16/4 B.EMISSION | 78 | 57 | 34 | 1,4 | 1,1 |
| 4 B.EM./16/4/16/4 B.EM. | 71 | 50 | 31 | 0,8 | 0,6 |
| 3+3 B.EM./16/4/16/3+3 B.EM. | 69 | 46 | 36 | 0,8 | 0,6 |
| 4 B.EM.+4/16/4/16/3+3 B.EM. | 70 | 50 | 35 | 0,8 | 0,6 |
| 6+6.2 F.IS./20/4+4.1 F.IS. B.EM. | 73 | 51 | 50 | 1,4 | 1,1 |